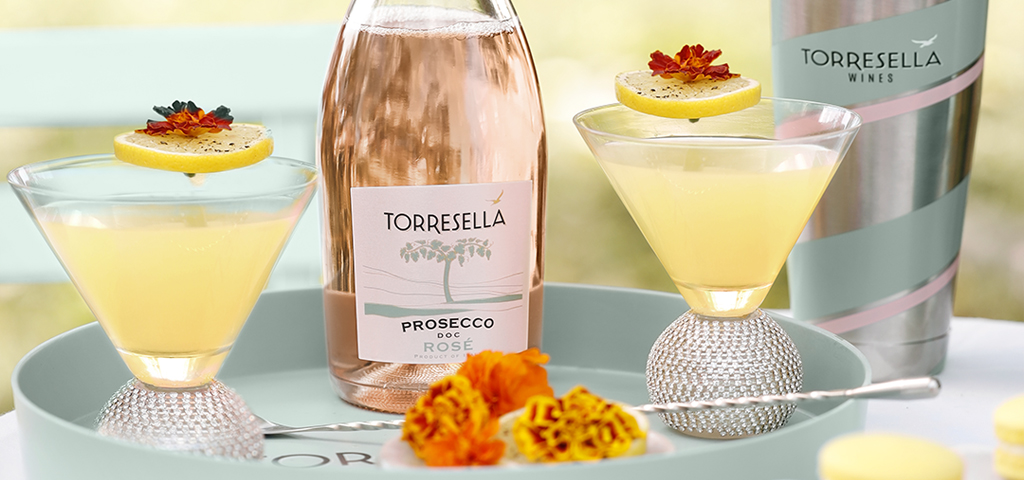 Veneto 75
Prep time: 8-12 mins
Total time: 12-13 mins
Makes 2 Glasses
Ingredients
6 oz Torresella Prosecco Rosé
3 oz Limoncello
1 oz Simple Syrup
2 oz Lemon Juice
Dash of Black Pepper (⅛ teaspoon)
Garnish: Lemon Wheels, Freshly Cracked Black Pepper, and Edible Flowers, such as Marigold.
Simple Syrup: 1½ cup Sugar, 1 ½ cup Water
Instructions
For the simple syrup:
In a small pot, heat water and sugar over medium heat until sugar is completely dissolved, stirring for about 15 minutes. Remove from heat and allow to cool. Pour into a container, label, and date. Store in the refrigerator until ready to use.
For the garnish: 
Grab a fresh lemon and cut it down the middle. Cut two lemon wheels from the center and coat the top of each wheel with freshly ground black pepper. If desired, skewer an edible flower onto the peppered lemon wheel horizontally and place it on the rim of each glass.
For the cocktail: 
Using a mixing glass or the larger tin of Boston Shaker, add the simple syrup, lemon juice, limoncello, and 4 oz of the Prosecco Rosé. Stir all ingredients, adding the dash of black pepper until it is diluted for the flavor to pop. Using a strainer, pour all ingredients into two glasses evenly, and top off each glass with 1 oz of the Prosecco Rosé. 
Other Recipes You May Like