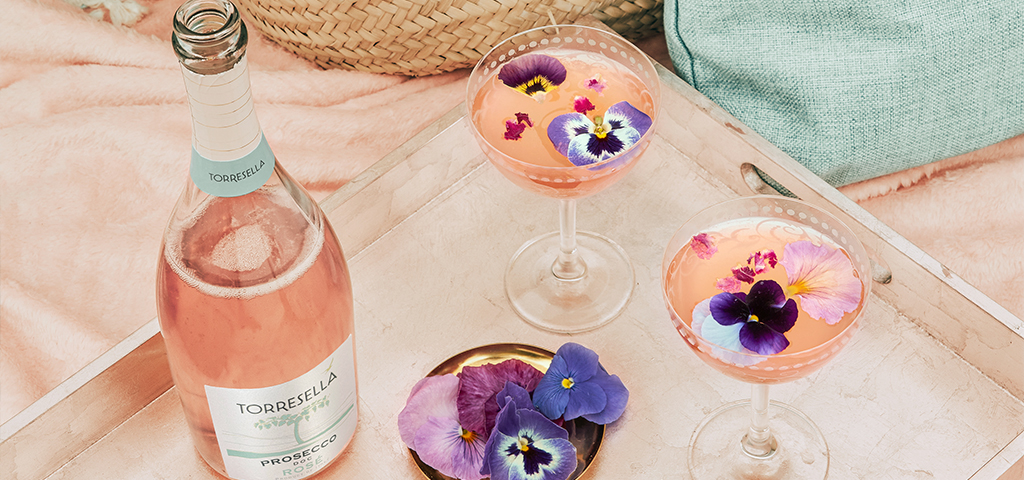 The Prosecco Rosé Bouquet
Prep time: 10 minutes
Total time: 10 minutes
Makes 2 Glasses
Ingredients
6 – 7 oz. Torresella Prosecco Rosé
¾ oz. Elderflower Liqueur
¾ oz. Honey Water
½ oz. Lemon Juice
One large Strawberry
Garnish: Edible Flower Petals
Instructions
Grab one large strawberry, cut it in half, and place it inside the cocktail shaker. Add the elderflower liqueur and lemon juice to the shaker and muddle the fruit.
Using a small pot on a stovetop, add a ratio of 2:1 water to fresh honey and bring the mixture to low heat. Stir, and as soon as you see the honey melt, turn off the stove and let the mixture cool down. It should look more liquid than syrup. Measure the appropriate amount of honey water and pour it into the shaker, adding ice. Shake all the ingredients well. Open the shaker and pour 6-7 ounces of Prosecco Rosé into the larger tin. Stir all the ingredients with a mixing spoon.
Grab a strainer and pour evenly into two glasses.
Garnish with edible flowers.
If using ice in the cocktail, scatter flower petals over the ice in the glasses before pouring in the drink.
Other Recipes You May Like