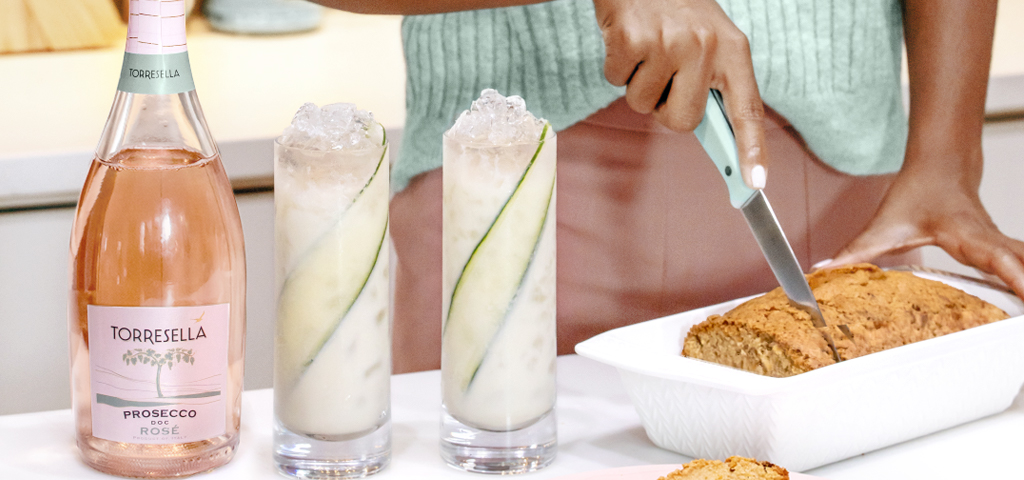 Prosecco-Lada
Prep time: 5 minutes
Total time: 8-10 minutes
Makes 12 oz
Ingredients
1 oz Cucumber juice
1 oz Cantaloupe juice
2 tsp Powdered sugar
1/2 Squeezed lime
2 oz Coconut milk
4 oz Torresella Prosecco Rosé
Crushed ice as desired
Optional Garnish: Cucumber ribbon
Instructions
​​Simple to make and easy to share. Use a blender and add a peeled cucumber and cantaloupe to get approximately 1oz juice from each.  Add all ingredients, except the wine, into a Collins glass or Boston Shaker and stir well. Add crushed ice into each glass as desired, and use ice to help place desired garnish around the glassware edges. Top off each glass with some Torresella Prosecco Rosé and enjoy!
Repurposing Tips:
Add some water to your leftover cucumber juice and leave it in the fridge overnight. You can use it the next morning as a refreshing face wash!
Your remaining cantaloupe juice can also be used for various purposes. Use it as a base for vegetable broth, add to ground meat (or Veggie Burgers!), baked goods, or fiber-filled smoothies. It also works great as plant fertilizer by providing healthy fungal growth!
Recipe created by mixologist Joshua Labrada
Other Recipes You May Like