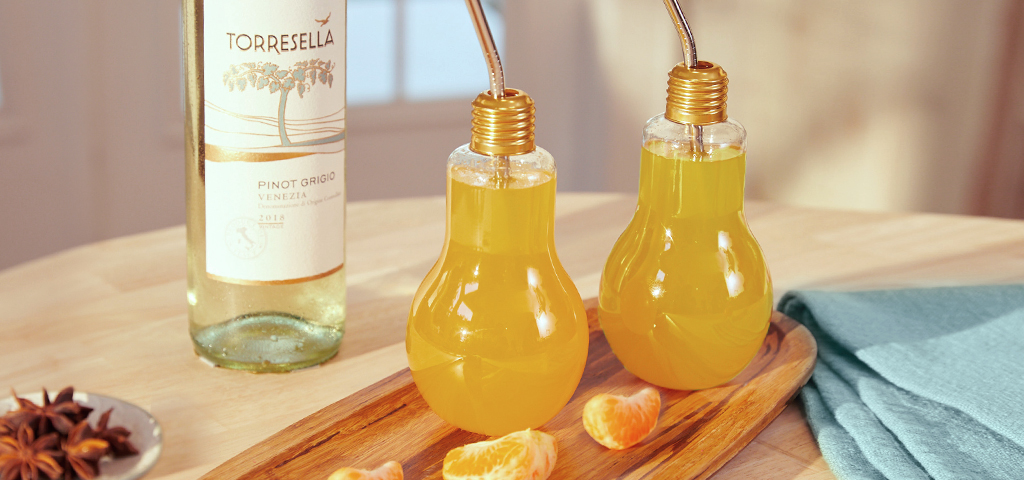 Anise Cozy Dream Cocktail
Prep time: 5 minutes
Total time: 25 minutes
Makes 4 Servings
Ingredients
750 ml (1 bottle) of Torresella Pinot Grigio
2 cups (480 ml) tangerine juice
1 cup (240 ml) spiced rum
1 cup (240 ml) water
1/2 cup (118 ml) brown sugar
2 tbsp. honey
1 thinly sliced lemon
1 sliced mandarin
10 whole cloves
1/3 cup (78 ml) of star anise
Optional for serving: citrus slices, reusable straws and safe, reusable glassware.
Instructions
Pour water, brown sugar, cloves and ¼ cup of star anise into a medium saucepan. Stir ingredients gently and then bring to boil. Mix until the sugar is dissolved; this will create your base syrup.
Reduce to low heat; if desired, you can strain just the syrup into a larger non-reactive pot, or pour the entire mixture into the larger pot.
Maintaining low-to-medium heat, add the tangerine juice and honey. Stir occasionally for 15 minutes before adding sliced fruit, the remaining star anise, spiced rum, and approximately one cup of Pinot Grigio.
Bring the batch to a simmer and cook for an additional 5-8 minutes on low heat.
Remove the pot from the stove and let it cool down to avoid burning yourself, then strain the contents into a pitcher. 6. Grab heat-resistant glassware and pour your Pinot Grigio halfway, then top off with pitcher ingredients and enjoy!
Other Recipes You May Like