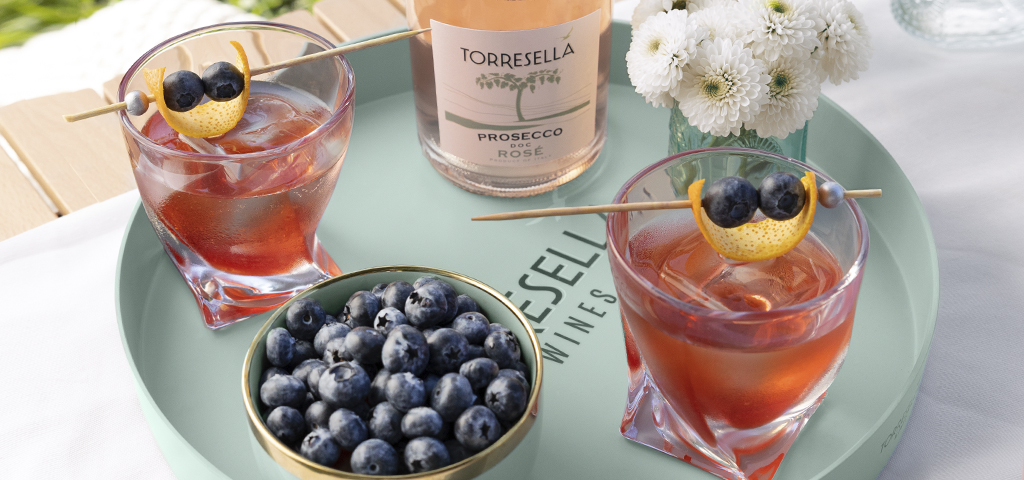 Mirtrillo Sbagliato
Prep time: 2-3 min
Total time: 3-5 min
Makes 2 Glasses
Ingredients
2 oz Torresella Prosecco Rosé
2 oz Blueberry-infused Aperol
2 oz Rosso (Red) Vermouth
Topped with 3 oz Torresella Prosecco Rosé
Garnish: Orange Peel with Blueberries
House-Made Blueberry Aperol: 2 cups Aperol, 1 cup Blueberries
Instructions
For the Blueberry Aperol: 
Place blueberries and a splash of Aperol for moisture in a glass or plastic bowl. Muddle well, then add remaining Aperol. Let the mixture sit/rest for at least 24 hours. After 24 hours, it is ready. Don't forget to eat those yummy blueberries! Label and date. 
For the Cocktail:
Pour all ingredients into a Boston cocktail shaker or mixing glass (except for Prosecco Rosé top off) and stir. Strain into two ice-filled rock glasses evenly and top off with Prosecco Rosé. Grab a zesty orange peel for garnish and twist it over the glass for the best aromatics. If you have a skewer, grab two blueberries and slide them between the orange peel. Lay your garnish on top of the ice cube to give it the appearance of a gondola ride through the city for two.
Other Recipes You May Like